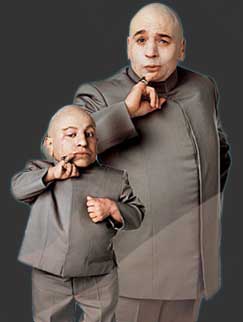 Peter Stringer and John Hayes relax during the big build up!
The Ireland wagon continues to roll after this sputtering win against a spirited Scottish side.
This time Ireland have to thank their veteran scrum half Peter Stringer for pulling them out of their slumbers with one of his characteristic surprise breaks to set up the posturing Heaslip who probably did his Lions chances no good at all with his show boating as he crossed the line for the decisive score.
Rather than bore you with a rehash of the game we've decided that this week we'll look forward to the big showdown in the Millennium Stadium this weekend where Ireland take on the greatest team in the Northern Hemisphere, the unbeatable Welsh!
There will be some mouthwatering clashes which are extra spicy with Lions places at stake. So, man for man, how are the teams going to match up?
No.
Wales
Ireland
Comments
Verdict
15
Byrne
Kearney
Two classy full backs both in the running for a Lions berth, however both have struggled to produce their best form of late. Both good defensively but Byrne has the edge in attack.
Wales
14
Halfpenny
Bowe
Bowe better in attack and Halfpenny better in defence but the big Ulster man's inside track on the Ospreys players should see him have one of his better games.
Ireland
13
Shanklin
O'Driscoll
Again, both class acts but O'Driscoll seems to be running this campaign as his own crusade and should come out on top.
Ireland
12
Henson
Wallace
Think both coaches will go for the unorthodox here and both to play as game breakers. Too close to call as both can win or lose the game.
Tie
11
Williams
Fitzgerald
Both elusive runners but Williams tends not to end up in blind alley.
Wales
10
S Jones
O'Gara
Another close call with both tending to bottle under pressure however expect Jones to make home advantage count.
Wales
9
Phillips
Stringer
A contrast in styles but expect Phillips to come out on top with his more aggressive style of play.
Wales
8
Powell
Heaslip
Another contrast with power against finesse. A lot will depend on the Leinster man buckling down to the nitty gritty.
Tie
7
Williams
Wallace
Absolute class on both sides too close to call.
Tie
6
R Jones
Ferris
The Ulster man edges it on current form. Bigger stronger and wants it more – just like Jones three years ago.
Ireland
5
AW Jones
O'Connell
O'Connell's experience and his sheer bloodymindedness to edge it.
Ireland
4
Gough
O'Callaghan
Gough's form and his sheer bloodymindedness to edge it.
Wales
3
Jenkins
Hayes
Jenkins contribution round the pitch against Hayes massive contribution in the line out. The Welsh man to edge it.
Wales
2
Rees
Best
Rees is a very underrated hooker but Best should edge it by concentrating on the game.
Ireland
1
A Jones
Horan
The Munster man should edge this one with his all round game leaving Jones trailing behind.
Ireland
16
Bennett
Flannery
Ireland look to have the edge on the bench with more consistent players to bring on.

A lot will depend on the managers call and Gatland against Kidney is another mouth watering confrontation. Expect bith to make the right decision at the right time.

However if O'Gara is injured for Ireland or Phillips is injured for Wales then the game could swing dramatically.

Ireland
17
Yapp
Court
18
Charteris
O'Driscoll
19
D Jones
Jennings
20
Fury
O'Leary
21
Hook
D'Arcy
22
Roberts
Murphy
So there we go seven to Ireland and six to Wales with three just too close to call – expect a narrow victory for Ireland.
UPDATE 17th March
With the selection of D'Arcy ahead of Wallace the score goes 7 Ireland, 7 Wales and 2 Ties. With home advantage the balance is now in Wales' favour.
Ireland: R Kearney; T Bowe, B O'Driscoll, capt, G D'Arcy, L Fitzgerald; R O'Gara, T O'Leary; M Horan, J Flannery, J Hayes, D O'Callaghan, P O'Connell, S Ferris, D Wallace, J Heaslip.
Replacements: R Best, T Court, M O'Driscoll, D Leamy, P Stringer, P Wallace, G Murphy.