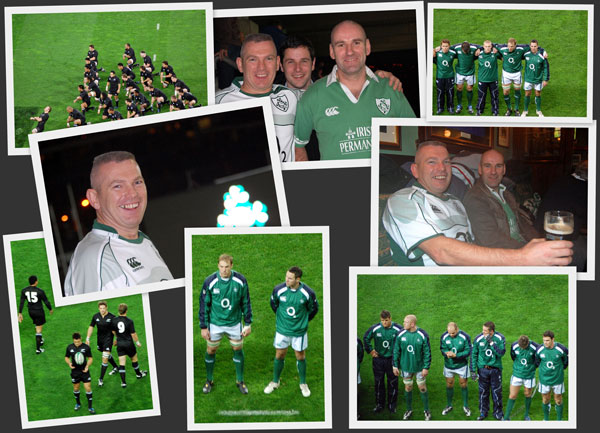 This was my first trip down to Dublin for an International for quite some time and needless to say my first trip to Croke Park for an International.
I must say that the whole trip was very enjoyable, apart from the result of course. Having left it too late to get on the train from Belfast I decided that I'd stay sober and drive down and maybe remember some of the match for a change.
We'd decided that we'd drive down to Malahide, park up and get the DART in from there and I must admit that this was a great decision. Leaving Belfast at 11:30 we were parked up and enjoying lunch in Malahide in less than two hours. A few pints (for my travelling companion obviously) and a quick trip on the DART and we were out at The Phil Ryan, The Hogan Stand in time for the second half of the England Australia game.
A few more pints (again for my companion and a couple of other reprobates that we met in the bar) and it was off to Croke Park for the game. Croke Park is a magnificent stadium and a credit to the GAA and the Irish taxpayer. The fantastic atmosphere was only slightly spoiled by the faintly musty odour of unwashed Munster shirts which seemed a strange choice of clothing for an Ireland match. Unfortunately as the game progressed the atmosphere went down hill pretty quickly.
The match itself was a fairly one sided affair. Ireland spent most of the first half defending and showed very little in attack with only Fitzgerald and Wallace making any dents in the gain line and despite the circumstances of the penalty try the 3 – 10 scoreline flattered Ireland.
The atmosphere in the second half went down hill quickly and the whole match had a degree of inevitability about it. New Zealand stepped it up a gear and the ageing Ireland pack were unable to match them and unfortunately Kidney had little in his locker to change the inevitable course of the game. The unedifying site of O'Connell limping about midfield as Nonu strolled past was the defining moment of Kidneys first real game in charge, poor selection and no Plan B, a worrying return to the O'Sullivan era.
So where do Ireland go from here? It's a difficult one as very little attempt has been made over the last five years to develop players on the international stage. This has to stop and the less experienced players have to be developed. Players like Sexton, O'Connor, Wallace, Fitzgerald, Earls, Ferris, Pollock, Court, Ross and Caldwell all need to be tested on the international stage. Nothing of significance will be won with this ageing side.
After the game it was back to Malahide and a relaxing meal leaving about 9:30 and back in Belfast by 11:30. Despite the result I'd definitely do it again.