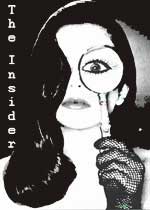 WINDS OF CHANGE BLOWING THROUGH ULSTER RUGBY
Although Ulster fans were aware that Matt Williams planned to change Ulster Rugby root and branch, the FRU are astonished to discover just how far reaching those changes are going to be.
A veil of secrecy has descended over Ravenhill as Williams has installed himself in a Portakabin office with a sign on the door which reads, "No admittance, even to authorised personnel". However, a player who wishes to remain anonymous and can only be identified as Carlo for legal reasons, gave the FRU the inside track on the shenanigans which have been taking place.
Carlo told the FRU, "Lasta week the bossa callsa me in to his office and he say, "Howsa you Carlo?" and I say,"Okay boss. Every daya I thinka you mora and mora like Roberto Redforda." I know that pleasa him an' he no wanna give me bada news. Carlo can play psychological gamesa too. Then he say, "Relaxa Carlo, you too tense." an' I say, "Carlo is relaxa boss,comparea to me a bowla cooked spaghetti looksa tense."
Then he say,"Carlo, bigga changes taking place here. From now on, you Malcolm." I say, "But my name Carlo boss. I no Malcolm." an' he say, " Whatsa matter you? Gotta no respect? You now Malcolm! Avante!"
I go outta an' I hangsa about, see other player go in and come out with sadda face. I say, "Whattsa up, Paddy?" He say,"I no Paddy any more, now I Brian." Then I see Rob and he say he now Gordon. I ask Ed, and he now Leo. Then I see Fat Controller across car park an' I say to him. "Hey Chief, whatsa going on?" an' he say ,"Canta stop now Malcolm, I rushing to City Hall. Big meeting. Changing name of Ravenhill to Donnybrook!"
~~~ 0 ~~~
PINT FOUND ABANDONED IN SCOOP BAR AT RAVENHILL RUGBY GROUND
An abandoned pint of Guinness has been found in the Scoop Bar at the Ravenhill Headquarters of Ulster Rugby. The pint was discovered in the early hours of Saturday morning by Ulster Rugby supporters who had been celebrating Friday night's moral victory over Bath. The revellers had staggered into the empty bar for a wee when they noticed the tiny bundle sitting on the bar. It was wrapped in a cheap plastic container. After much discussion the fans rang for a taxi and rushed it to the Royal Victoria Hospital where nurses immediately named it Arthur. It is currently in intensive care as doctors battle to rebuild it's head.
Full time reveller and part time sleuth Mr. D.Barnes, said,"I deduce that anyone in here who has a pint and doesn't drink it is definitely not an alcoholic, they must be a stranger to these parts". He added, "Anyone who pays £70 for a pass to the Scoop, buys a pint, and then abandons it, should be sectioned under the Mental Health Act."
This view was almost reiterated by Chief Inspector Bent Filth of the PSNI who said, "Anyone who pays £70 for a pass to the Scoop Bar should be sectioned under the Mental Health Act." He also said, "We realise that this is a sensitive situation but we must stress that we are not looking to prosecute at this stage. We just want the owner of the pint to contact us. They can remain anonymous, but we need to show them what a full lobotomy looks like." He then appealed for witnesses to come forward and warned the public not to get involved.
Anyone with any information about drink can contact the police on 999.
~~~ 0 ~~~
MUTED WELCOME FOR HERO'S RETURN
Local hero Cap'n Grumpy was almost given a hero's welcome when he returned to the Ulster Rugby stadium at Ravenhill last Friday night for the match against Bath.The good Cap'n shot to attention early last year when he bravely dived, fully clothed, into a puddle outside the beer tent to rescue a ball which had been kicked in. "I just saw the ball and jumped into the puddle to get it out" he said at the time."I didn't think of myself. I just saw the ball".
Cap'n Grumpy was underwhelmed by the reception he got. "Well, I'm sure,had I got those two boys out of the puddle alive, not just the ball, there would have been a lot more fuss. But I can't live in the past and I had to prioritise with an instant decision".
Police divers, who have spent the last six months searching the puddle, are beginning to give up hope of finding the missing boys, though another ball, a scuttled Russian submarine, and two Tesco shopping trolleys have been recovered. Ulster Rugby are hoping to have the puddle filled in for the opening Magners League match against Llanelli Scarlets. They also hope to feature Welsh tribute band, SHYWYDDYDYDDY, singing 'Three Steps To Heaven', etc. etc. in the Beer Tent prior to the match.