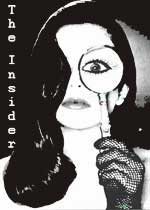 SECOND BARRIER CREW FED UP WITH VANDALISM
Members of the Second Barrier Crew are "fed up with hooliganism and vandalism and sick of bad behaviour among fans" according to reports being passed to the FRU. Spokesman Cap'n Grumpy has asked the URSC to"take responsibility and lay some of the blame on their own shoulders", following a hundred per cent increase in criminal damage within the Ravenhill Rugby ground precincts. 2BC members are so concerned, according to the good Cap'n, that thirty of them broke into the ground last week and spray painted the words " Down With Vandalism !" across the length of the Corporate boxes, smashed every window in the offices, and tore the cisterns from the walls in the toilet blocks, in order to draw attention to the crisis.
"We're totally fed up " said Cap'n Grumpy, shouldering his baseball bat."This place is a disgrace and we must confront these people and make them accountable for the consequences of their actions! If the powers that be don't respond to this we may be forced to rip up the pitch next time!"
HOLYWOOD MIKE HONOURED AS LAST JAPANESE SOLDIER TO SURRENDER FROM WORLD WAR TWO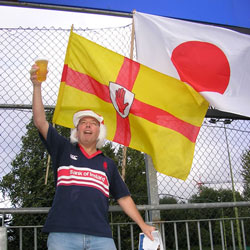 An amazing series of events ended next week when Holywood Mike,real name Jujitsu Takashita, was honoured by the Japanese Embassy in Belfast for being the last Japanese soldier to surrender after WW2. Apparently Mike only realised that WW2 was over last Thursday when he was finally confronted by a reporter from Discovery Channel who convinced him that Emporer Hirohito had ordered the troops to surrender on the 18th August 1945. Mike was part of an advanced guard deployed to infiltrate the UK but somehow got separated from his unit and ended up standing beside a man and his dog at the Ravenhill ground of Ulster Rugby. He claimed that he missed Emporer Hirohito's relayed announcement as the PA system at Ravenhill was as bad then as it is now and he also revealed that he had been ordered to relay the code word 'cheerleaders' back to base to signify that he had achieved his objective. President Kimble of the URSC said," We had absolutely no idea that Mike was really Japanese as he gave no indication whatsoever, though I do believe he is quite fond of karaoke."
PSNI ANNUAL 'FIT-UP' ON ULSTER FAN DECLARED AN UNMITIGATED SUCCESS by Assistant Chief Constable, code name – 'PORK PIE'
This years annual ' fit-up' was held on July 27th when officers from SO19, the PSNI's armed response unit, raided the house of a 42 year old unemployed day dreamer called Captain Chaos. Improvised home made explosives, Class 'A' drugs, and hardcore pornography were "found", as well as Nazi insignia,chastisement gear, and flight manuals printed in Arabic. Mr.Chaos was released without charges after 72 hours of questioning, without giving one correct answer. He was handsomely compensated by Assistant Chief Constable ' Pork Pie ' who presented him with a bottle of champagne, a Bri-Nylon shirt, and a polyester elasticated necktie. Dates for next years 'fit-ups' have not yet been released as the PSNI are still in advanced negotiations for television rights with Sky News.
OLD FARTS FACT FINDING OUTING ENDS IN SLEAZEFEST
Forty five 'old farts', who are the real power brokers in Ulster Rugby, had their annual fact finding outing to London last week. With pick up points at Malone and Ballynahinch organised by Vinnie's Coach Tours, the bus was soon on it's way to London. To help keep them awake on the outward journey each passenger was supplied with three ecstasy tablets and two bottles of water and also paid £22 each to get into Sleazeys, a hard core night club in a bricked up railway arch at Charing Cross. Vinnie made a killing in the night club selling two Annadin Extra for £15 to the old farts and by the time the music started at 2am most of the party were back on the bus fast asleep. Kebabs and lager were served at four thirty but there were no takers. Practical joker Vinnie suggested to his passengers on the return journey that during their absence professionals had taken over running the game in Ulster, so a further fact finding mission to a rave in Essex has been postponed until forty five pairs of trousers are returned from the dry cleaners.
LATE NEWS.
Second Barrier Crew run amok in Toys R Us. Challenge by security guard results in hundreds of items being ejected from prams.
Double tragedy strikes House of Kimble as butler serves fish knives with desert, and puts family silver in dishwasher.
Who ate last chop? demands angry and still hungry CEO after Ulster Hog Roast. PSNI to examine missing CCTV footage.